Hal W. Snarr, Ph.D.
Economics
Gore 105
801-832-2634
Try not. Do... or do not. There is no try. – Yoda, Jedi Master
The curious task of economics is to demonstrate to men how little they really
know about what they imagine they can design. – F.A. Hayek
Anybody who is easily converted is not worth converting. – Milton Friedman
Government failures are mountains next to the molehills of market failures – Hal Snarr
Currently Teaching:
Business Math Modeling
Information Technology
Principles of Macroeconomics
Money and Banking
Austrian Economics in American History
Introduction to Market Dynamics (MBA 620)
Previous Courses Taught:
Mathematical Economics, 2007 AEASP, Duke University (Final Exam Key)
Microeconomic Theory, 2006 AEASP, Duke University (Microeconomics in a Nutshell)
Introduction to Austrian Economics
Business Quantitative Methods
MBA Business Quantitative Analysis
Labor Economics
Introduction to Austrian Economics
Economics of Race and Gender
Elementary Statistics
Advanced Statistics
Intermediate Microeconomics
Principles of Microeconomics
Sports Economics
Econometrics
PUBLICATIONS:
Lynn Snarr, Hal Snarr, and Dan Friesner (forthcoming) "Is "START-UP NY" Starting Up NY?" International Journal of Sustainable Entrepreneurship and Corporate Social Responsibility Volume 2, Issue 1
Alfredo A. Romero and Hal W Snarr (2015) Obstacles and Catalysts of Productive Mobility in the United States, The Journal of Economics (MVEA) 41(1): pp. 57-83
Hal W. Snarr (November 2014) Learning Macroeconomic Principles Using Maple Business Expert Press, LLC
<![if !vml]>
<![endif]>
Hal W. Snarr (October 2014) Learning Basic Macroeconomics: A Policy Perspective from Different Schools of Thought Business Expert Press, LLC
<![if !vml]>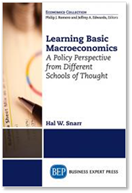 <![endif]>
Hal W. Snarr and Alfredo Romero (2014) Does the minimum wage make young adult labor more attractive to firms? A panel data analysis that controls for spatial heterogeneity International Journal of Social Ecology and Sustainable Development, 5(1): pp. 111-37
Hal Snarr (2013) Exploring the Simultaneity in Public Assistance and Abortion
Modern Economy, 4(9): pp. 600-4
Hal W. Snarr (2013) Was it the economy or reform that precipitated the steep decline in the welfare caseload? Applied Economics 45(4): 525-40
Hal W. Snarr, Daniel Underwood, Daniel Friesner (2012) Evaluating Evolutionary Changes in State TANF Policies Applied Economics Letters (19)17: pp. 1753-8
Hal W. Snarr, Dan Friesner and Mark L. Burkey (2011) Unintended migration consequences of US welfare reform Economic Analysis and Policy 41(3): 233-51
Dan Axelsen, Hal Snarr and Dan Friesner (2010) Teaching consumer theory to business students: An integrative approach Perspectives on Economic Education Research 6(1): 15-47
Hal Snarr and Jeffrey A. Edwards (2009) Does income support increase abortions? Social Choice and Welfare, Springer, vol. 33(4), pages 575-99
Hal Snarr and Dan Axelsen (2008) Are welfare eligible households forward-looking? Economics Bulletin, 9(8): 1-9
Dan Axelsen, Dan Friesner, Robert Rosenman, and Hal Snarr (2007) Welfare recipient work choice and in-kind benefits in Washington state Applied Economics, 39(8): 1021-36
Hal Snarr and Dan Axelsen (2007) Accounting for peak shifting in traditional cost-benefit analysis Journal of Economic Development and Business Policy 1(1): 1-23.
Hal Snarr and Mark Burkey (2006) A preliminary investigation of welfare migration induced by time limits Journal of Regional Analysis & Policy, 36(2): 124-39.
Hal Snarr and Steven Gold (2006): The design and use of macroeconomics simulation using maple software: A pilot study Developments in Business Simulation and Experiential Learning, 33: 253-62.
Dan Axelsen and Hal Snarr (2004): Analyzing Washington State's welfare program design, WorkFirst Mountain Plains Journal of Business and Economics, v5.
OTHER PUBLICATIONS:
Inflation Has Been Contained — But Not Because of a Liquidity Trap, Mises Wire, 2/09/2017
The source of privilege: Evidence from Hypothetical City, Stocks and Jocks, 1/12/18
The Yield Curve Accordion Theory, Mises Wire, 12/26/2017
How Central Banks Widen Wealth and Income Gaps, Mises Wire, 11/09/2017
Low Interest Rates Subsidize Wealthy Households, Mises Wire, 10/21/2017
Will the cocktails the policy mixologists keep serving result in the nastiest economic hangover ever? Stocks and Jocks, 9/13/17
The Road to Serfdom is Paved with Equity Interventions, Stocks and Jocks, 4/19/17
Supply-side or something-d-o-o economics? Anyone?, Stocks and Jocks, 3/17/17
The end, when falling unemployment starts to bend and ascend, Stocks and Jocks, 3/10/17
Yield Curve Accordion Player, Stocks and Jocks, 3/3/17
More On Fiscal and Monetary Folly, Stocks and Jocks, 2/24/17
Economic Stimulus Follies, Stocks and Jocks, 2/14/17
Mainstream Monetary Malpractice, Stocks and Jocks, 2/8/17
Baltimore's Unemployed and the True Cost of Minimum Wages, Mises Daily, 6/26/15
Why the Mainstream Fails to Understand Recessions, Mises Daily, 7/2/14
The Problem with Progressives is They Sweep Aside the Constitution, Forgetting Why It's There, PolicyMic, 2/6/2013
Why James Eagan Holmes Should Not Be Executed, PolicyMic, 1/6/2013
Assault Weapons Ban Will Only Spark More Shootings, PolicyMic, 12/21/2012
An Austrian School Solution to the Problem of Fractional Reserve Banking, PolicyMic, 11/23/2012
Too Big to Fail: How the Federal Reserve Encourages Reckless Behavior, PolicyMic, 11/23/2012
Fractional Reserve Banking: How the Federal Reserve Strips Away Your Property Rights, PolicyMic, 11/23/2012
A Romney victory today means Democrats will be partying in 2014 and 2016, OpEdNews, 11/6/2012
The October (Jobs report) Surprise. If it looks like a lie, and quacks like a lie, it must be a lie, OpEdNews, 10/6/2012
Causes of and solutions for one heck of a financial Molotov cocktail, OpEdNews, 10/14/2008
Presentations:
Gender differences in policy-induced interstate migration (2017 MVEA)
Does taxation, size of government, and labor regulations at the state level affect inter-state migration? (2017 MVEA)
Is "START-UP NY" Actually Starting Up NY? A Post-Keynesian Analysis (2017 MVEA)
Evaluating the employment effects of START-UP NY using county-level unemployment rates (2017 MVEA)
Westminster Savings Symposium Savings Symposium 4/6/2016
Does the minimum wage make young adult labor more attractive to firms? A panel data analysis that controls for spatial heterogeneity
Minimum wage hikes and their deleterious effect on youth employment (with Alfredo A. Romero) University of North Carolina Greensboro Lecture Series
Workplace Privacy? A Debate on Privacy in the Facebook Era (with Matt Brophy), BB&T Program on Capitalism, Markets, and Morality Speaker Series at the University of North Carolina Greensboro
Obstacles and Catalysts of Productive Mobility in the United States. 2012 Missouri Valley Economics Association Annual Conference, Memphis, Tennessee (with Alfredo Romero)
The minimum wage: good intentions, job killer, or political football? 2012 Missouri Valley Economics Association Annual Conference, Memphis, Tennessee (with Alfredo Romero and Dan Friesner)
Minimum Wage Hikes and their Deleterious Effect on Youth Employment, 2012 Southern Regional Science Association Meetings, Charlotte, NC (with Alfredo Romero)
The Spatial and Temporal Dynamics U.S. State Unemployment, 2011 Missouri Valley Economic Association (with Alfredo Romero)
Cluster Analysis: Towards Instrumental Liberation of the Institutionalist Empirical Toolbox 2011 meeting of the Association for Institutional Thought, Salt Lake City, Utah (with Dan Friesner and Dan Underwood)
Who's your daddy? Have aspects of welfare reform replaced the father with the State? (with Melanie Guldi) 2010 Missouri Valley Economics Association Annual Conference, St Louis, Missouri
A simultaneous-equation analysis of welfare reform's impact on abortion and fertility (with Melanie Guldi) 2010 Missouri Valley Economics Association Annual Conference, St Louis, Missouri
A new approach to teaching principles of macroeconomics 2010 Missouri Valley Economics Association Annual Conference, St Louis, Missouri
A simultaneous-equation analysis of welfare reform's impact on abortion and fertility 2010 National Research Conference on Child and Family Programs and Policy (with Melanie Guldi)
Welfare reform's impact on the welfare caseload, work, marriage, poverty, abortion, and fertility 2009 Missouri Valley Economics Association Annual Conference, Kansas City, Missouri
Preliminary Results: Welfare reform's impact on the welfare caseload, work, marriage, poverty, abortion, and fertility, The Cato Institute, May 2008
Do Low Income Families Act on the Migration Incentives Created by the Devolution in U.S. Welfare Policy? 2009 Southern Regional Science Association Meetings, San Antonio, TX
Welfare reform's impact on the welfare caseload, work, marriage, poverty, abortion, and fertility, 2009 NC A&T Faculty Brown Bag Seminar Series
Do First Trimester Diversion Payments Increase Abortions? Theory and Evidence of an Unintended Consequence of Welfare Reform 2008 NC A&T Faculty Brown Bag Seminar Series
2007 Economics Nobel Prize Presentation, NC A&T, Aggie Economic Association Student Club meeting 2006 Economics Nobel Prize Presentation, NC A&T Faculty Brown Bag Seminar Series
Lump-sum TANF diversion, TANF eligibility of childless pregnant women, and changes in abortions (title was updated after program was printed) 2007 Southern Economic Association Meetings, New Orleans
Welfare Reform and Migration between Draconian and Samaritan States 2007 Western Economic Association International meetings, Seattle, WA
2006 Economics Nobel Prize Presentation, NC A&T Faculty Brown Bag Seminar Series
Theoretical Implications of Welfare Reform on Interstate Migration 2006 Missouri Valley Economic Association, Minneapolis, MN
Welfare Dynamics: A Counter Argument to the Forward-Looking Conjecture 2006 Western Economic Association International meetings, San Diego, CA
A Preliminary Investigation of Welfare Migration Induced by Time Limits 2006 Southern Regional Science Association meetings, St. Augustine, FL
The Design and Use of a Macroeconomics Simulation Using Maple Software: A Pilot Study 2006 Association for Business Simulation and Experiential Learning Conference, San Francisco, CA
Incorporating Mathematics Software in the Economics Classroom: An Alternative Approach to Teaching the IS-LM Model, 2005 UNC TLT Conference, Raleigh, NC
Incorporating Mathematics and Maple in the Macroeconomics Principles Classroom 2005 Eastern Economic Association Conference, New York, NY